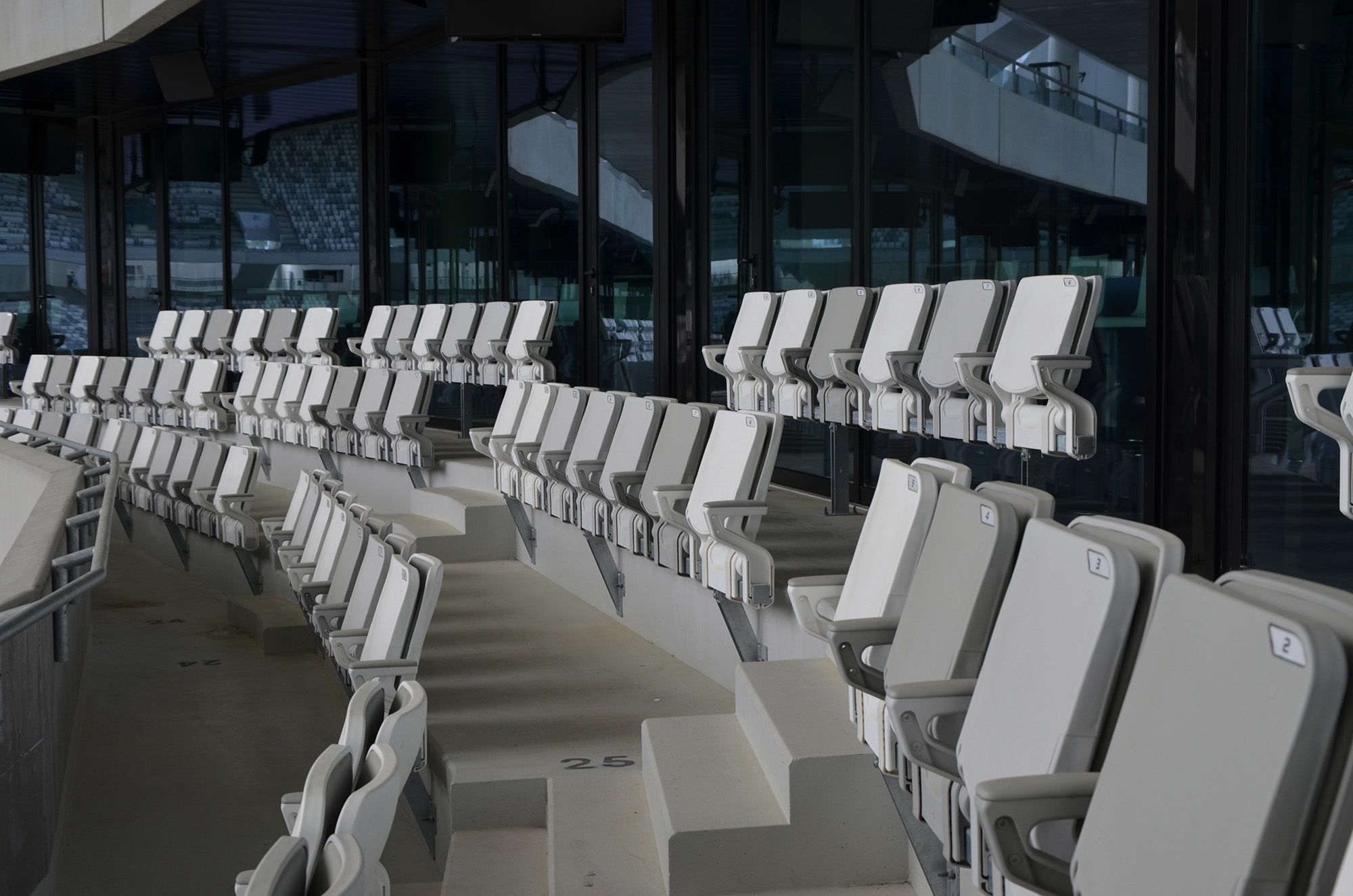 Box Seat 908
Stadium Seating
The BOX Seat 908 stadium seat or retractable seat is a highly durable, padded or non-padded seat. It has gained the reputation of being "the most comfortable stadium seat on the market". The 908 model was used for the Arsenal FC 'Emirates Stadium' in London; the first fully padded football stadium in the world.
The BOX seat for stadium or retractable seating features some unique trademarked design innovations that make this stadium seat ergonomic, progressive and timeless.
Features and benefits:
Trip hazard prevention design

- the seat's linear geometry allows for tight seating alignment which prevents trip hazards (view brochure for more information)
'Set and forget' strap system

- firmly secures the seat to the rail. Periodic tightening and maintenance are no longer required as the patented strap will not loosen or 'creep'
Dynamic Sleeve Interchange

- the seat sleeves are interchangeable allowing for branding patterns or easy reconfiguration and maintenance
'Plug and play' installation

- cleverly designed to make installation both safe for the installers and time efficient
UV Protected

- The seat is designed to be protected from UV damage to the seat surface.
Tight folding design

- this allows for the widest clearway between rows for accessibility in and out and to on-site vendors
High backrest advantage

- the high backrest creates a safe egress along with exceptional comfort
Huge variety of options for design, finishing, optional extras and colour range. Enquire for our fully detailed brochure.
Available on a

retractable system
Enquire now using the button below to get instant information & pricing about the Box Seat 908.
Material

Injection molded polypropylene

Finishes

Colour chosen from options below

Dimensions

Height: 88.5 cm

Width: 48.5 cm

Depth: 56.5 cm

Seat Height: 37 cm

Load Capacity

200 kg

Warranty

5 year commercial warranty