Axor™ Retractable Seating Systems
Extend and retract
at the push of a
button.
Our Axor™ Retractable Seating Systems offer unparalleled versatility, providing the perfect solution for sports centres, theatres, churches, and schools seeking to maximise their available space and transform into a multi-purpose venue.
Retractable or telescopic seating is a great way to make the most of your space. When closed, the system folds neatly into a small footprint, freeing up the majority of your floor space. An entire telescopic system can be opened in less than 30 minutes, transforming your space to provide large capacity tiered seating. We custom design and build our retractable systems, working closely with you to specify and install a system that suits the needs of your space.
Completely

customisable.
---
We work with you to design an Axor retractable system that meets your specifications.
Our telescopic seating systems are highly customisable, from bleachers to fully upholstered padded stadium seats. From manually operated systems to fully automated, we will work closely with you to specify a system that meets your needs.
Excellence

in design,
production and delivery.
---
With a large portfolio of successfully completed retractable seating projects throughout Australasia, our Axor™ Retractable Seating System is a proven performer.
With over 25 years experience in commercial seating solutions, you can trust our team to manage the design, build and installation of your telescopic system.
Engineered for

Australasia.
---
Our team of engineers, designers and manufacturers have helped us produce the best Retractable Seating solution for Australia and New Zealand.
Our proprietary telescopic seating design and construction is proven to perform in intensive commercial environments, with little maintenance required.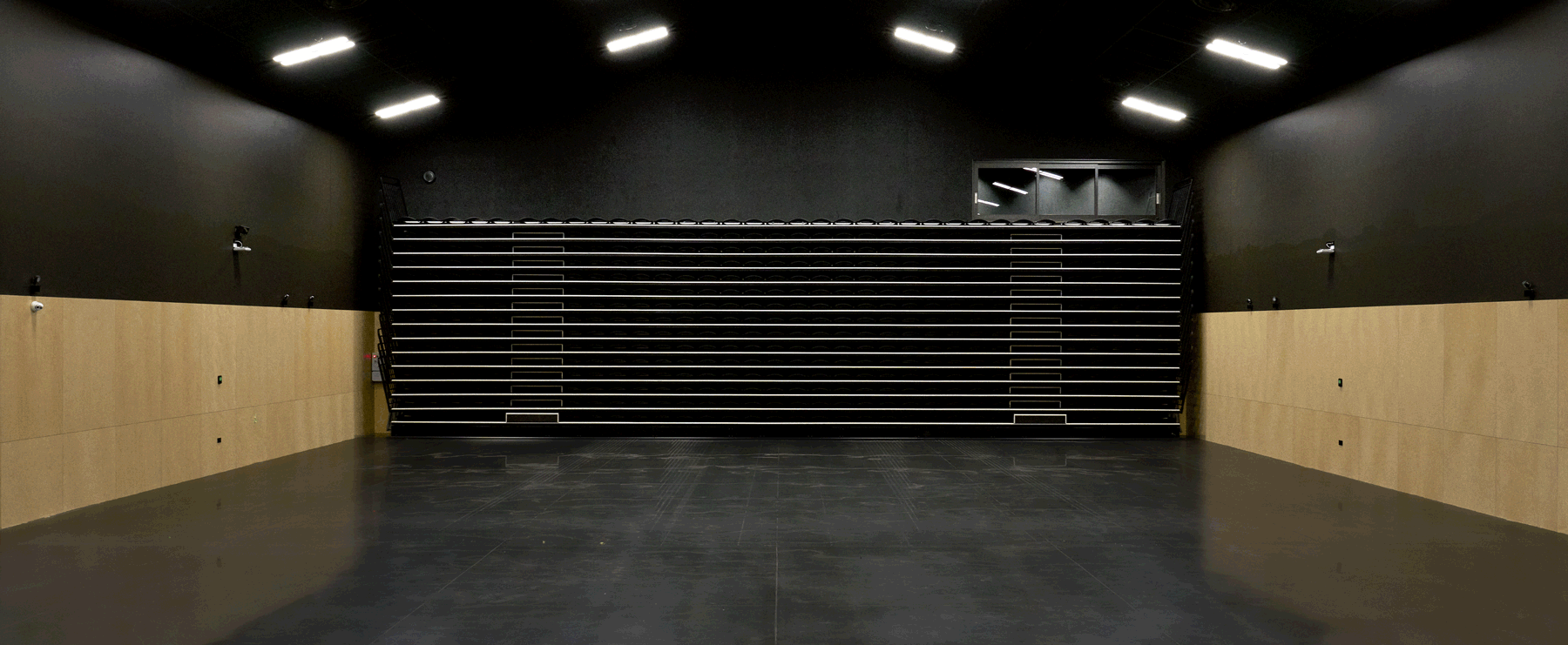 How we build your system
1. Consult
---
No Axor™ Retractable Seating System is built the same. And neither are our clients.
Enquire below, and we will be in touch to discuss the requirements of your space or venue to make sure all factors are considered; from existing architecture, number of seats required, accessibility, health & safety protocols and more.
2. Design & Build
---
We will ask for existing or proposed plans of your space and our engineers will design and specify a seating plan for your personalised Axor™ Retractable Seating System, and we will work with you to decide on a number of design features.
Once we have your stamp of approval, our manufacturing team will construct your telescopic seating system, and have the parts delivered to your venue, ready for installation.
3. Install
---
We are with you through the whole process, including installing your telescopic seating system into your space.
Our team has experience installing a number of Axor™ Retractable Seating Systems, from big to small, motorised to manual. We will efficiently install your system, working with you and your project managers to ensure things run smoothly.
4. Service & Maintenance
---
Upon completion of our installation or your project completion, we will conduct a final check and train your nominated personnel to properly and safely operate the system.
We take pride in our Axor™ Retractable Seating Systems, and want to ensure their smooth operation for years to come. We will arrange a maintenance plan with you on a 6 monthly basis, where we will perform vital checks of the system, and any needed maintenance.
Platform Options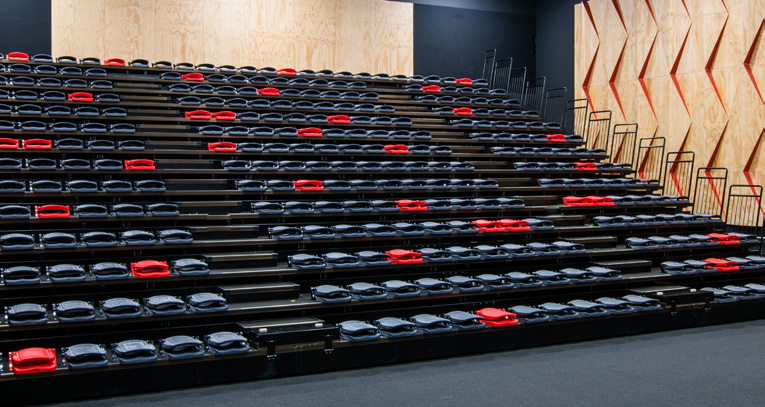 Fixed
Fixed to a wall or floor, this platform option typically closes to a 1100mm deep unit against the wall, and expands out from that point. Recommended for large-scale systems, and is an option for any size system.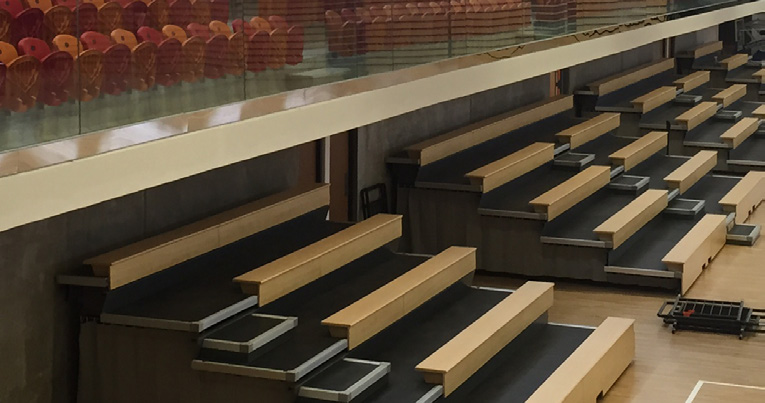 Recessed
Built into existing or planned architecture such as a recess or under a mezzanine. The system moves out from this space before expanding, and when closed, aligns flush with the wall creating a seamless finish.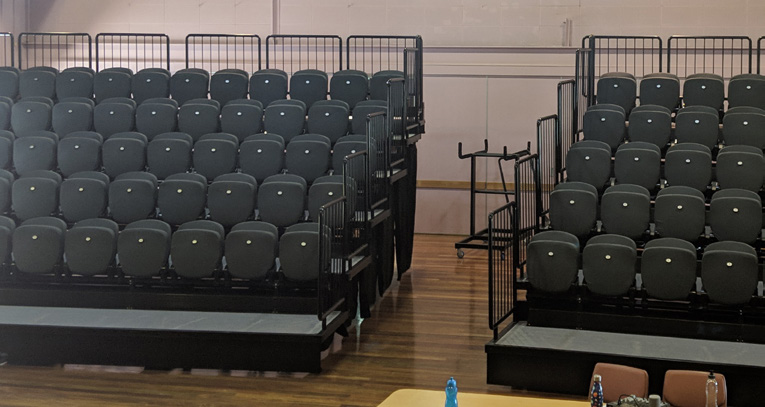 Mobile
When saving space is the top-priority, this platform option allows the entire system to be moved to another location for storage. Mobile platforms are possible with small to medium sized systems.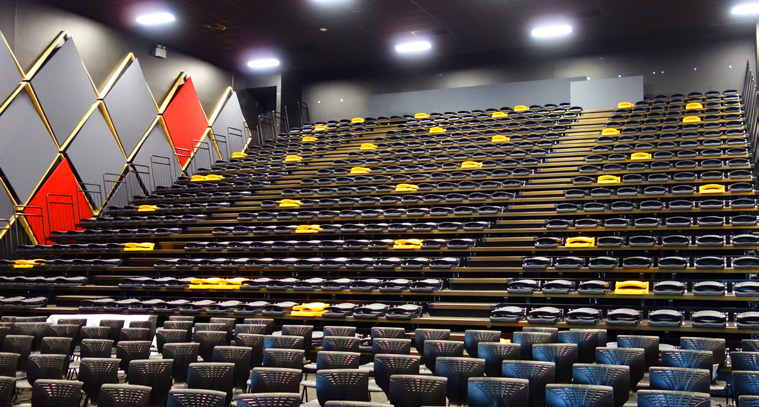 Custom
If your space has specific requirements or unusual architecture, we can work with you to build a platform that works for you. Tapered platforms, semi-mobile, interlocking and more - we can make it happen.
Retracting Options

Motor-driven
Motor-driven systems expand and retract at the push of a button.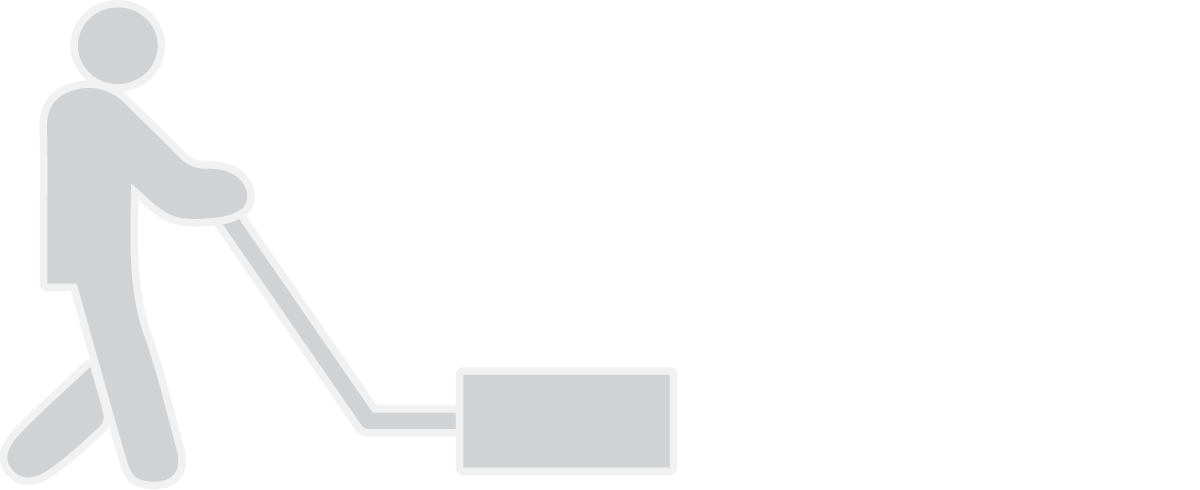 Manual
Smaller systems can be manually opened and closed by two people.
Finishing Options
---
Plywood Deck

Structural-grade plywood with a clear
polyurethane finish.

Phenolic Deck

Non-slip, easy to clean and durable
plywood finish.

Vinyl Deck

Available is a wide range of standards,
finishes and colours.

Carpeted Deck

Heavy-duty carpet available in a wide
range of colours.

---

Manual

Manually fold seats open and closed.

Semi-Auto

Seats fold open manually and fold closed automatically.

Automatic

Seats fold open and closed automatically with the system.

---

Self-Stacking

Steel self-storing rails that retract alongside the system.

Folding

Rails that save time by folding down onto their platforms.

Removable

Allows the ability to interchange the rail locations.

Rear Rails

Can be fixed or removable. Necessary for mobile systems.

---

Fascia Panels

Creates a uniform look and extra protection to the system when closed. Available in a range of timber and painted finishes.

Rear Panels

For mobile systems, these panels can be fixed, removable or fold-down. Available in a range of timber finishes.

Side Panels

For mobile systems, these panels can be fixed, removable or fold-down. Available in a range of timber finishes.

Curtains

Side and rear curtains are removable for easy maintenance and are available in a range of Fire Retardant fabrics.

---

Non-Slip Edging

Platform and step aluminium edging with non-slip rubber inserts. Glow-in-the-dark inserts available if required.

Gap Cover Strip

For side-by-side mobile systems, cover strips are inserted to prevent objects or footwear getting stuck between platform gaps.

Aisle Lighting

Optional LED lighting available for steps or aisles.

Row & Aisle IDs

Numbers are supplied as per specified sequence. Numbers can be fitted to the seat in pre-designated areas and aisle numbers are generally located on the riser adjacent to the seating row or on the end row seat itself.

Wheelchair Seating

For permanent and recoverable accessibility, seating notch outs or truncated sections can be provided as required.

Last Row Cover

Installed at the back of a unit to close off any gaps created by the systems understructure. Will sit flush with the top tier of the system.

Floor Overlay Board

Recommended for carpet or soft surfaces, removable boards help minimise rolling loads and ensure smooth operation.

---

Rail Storage Trolley

For removable railing, specialty rail storage trolleys can be provided.

Operational Pendant

Removable pendant control provided for motor-driven systems.

Writing Tablets

Writing tablets can be provided for compatible, manually folding seats.

---
Enquire Now
Complete the enquiry form below to get in touch with our team about the Axor™ retractable seating systems, or contact us directly via phone or email.
Effuzi New Zealand New Zealand
Effuzi Australia