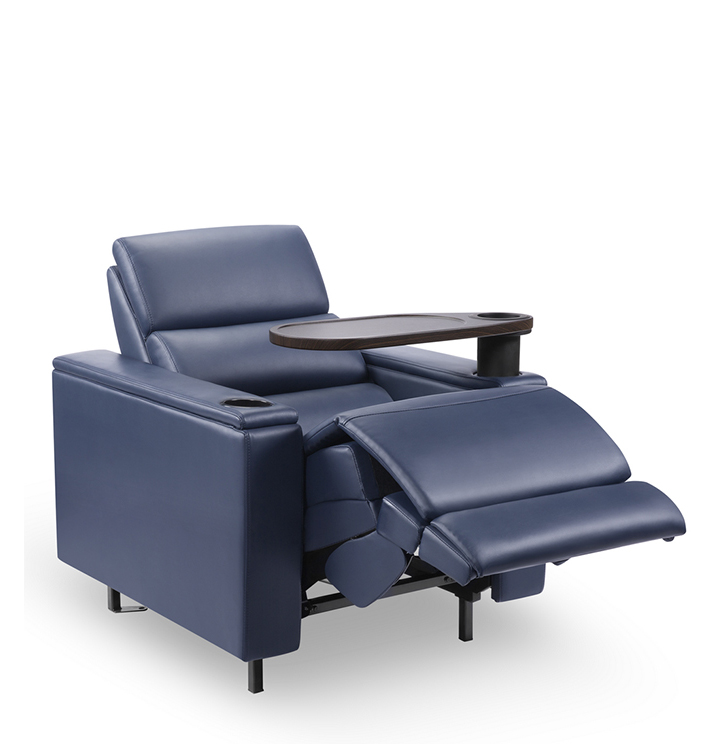 Tchaikovsky Zero Recliner
Gold Class Cinema Seat
The Tchaikovsky Zero recliner is a variation of our popular Tchaikovsky luxury cinema recliner. It is stylish, made from high quality materials and is ergonomically designed for optimum comfort.
The main feature of this luxury cinema seat is the way it reclines - the back is designed to recline down into the envelope of the seat, ensuring minimal space is taken up. Because of the smaller footprint required, this allows our customers to fit more seats into their cinemas, maximising return on investment.
The Tchaikovsky Zero has a removable seat cushion, making replacement and cleaning very easy - gold class luxury has never been so low maintenance!
Options:
- Upholstery: full grain leather, semi leather or vinyl
- No recline, manual recline, electric recline
- Cup holder in plastic or aluminium
- Tray Table
- Cooling cupholder
- Electric headrest
Material

Metal internal frame, cold molded foam

Finishes

Full grain leather, semi leather or vinyl

Dimensions

Height: 93-110 cm

Width: 58 cm

Depth: 87-140 cm

Seat Height: 50 cm

Warranty

5 year commercial warranty